A View of Black Lives Matter
This photographic essay on the Black Lives Matter Movement is only meant to be a snapshot of the events of last year starting with the aftermath of the killing of George Floyd. Since the events were numerous and nationwide, these photographs are within a limited scope of this journal to cover a small sliver of time and place. It is mostly focused on New York City with some detours to New Jersey, Washington, DC, and Richmond, Virginia. Even within the context of New York City there have been too many actions in too many locations with too many people to acknowledge them all. Imagine that at a minimum there have been 100 photos taken per week for the last 40 weeks—that would be a total of 4,000 images. It will be for future historians, scholars, and activists to take a full accounting of the meaning of this historic Movement.
There have been countless brave and fine photographers documenting what's been going on in the streets. This essay is just a small but substantial cross section of a handful of photographers in the Greater New York City Metropolitan area covering the Black Lives Matter Movement who have graciously allowed us to use their images. We urge you to follow their social media accounts to get a more granular eyewitness account of the Black Lives Matter Movement.
—David Zung, Editor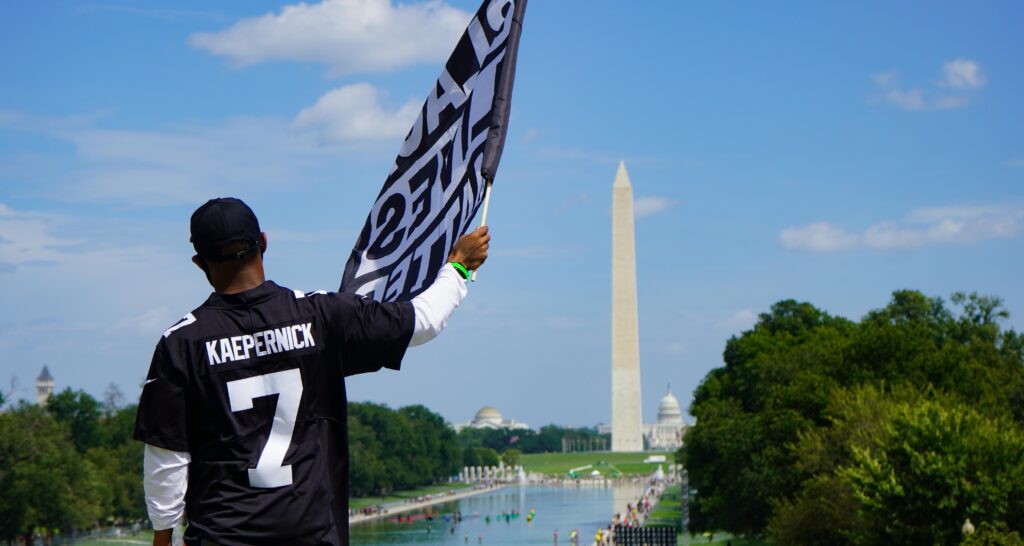 Click to view images larger.
4th of July NY
Zak Krevitt
New York, NY
4th of July NY
Zak Krevitt
New York, NY
Gwen Carr, Eric Garner's Mother, Speaks at a BLM Rally
David Zung
New York, NY
Gwen Carr, Eric Garner's Mother, Speaks at a BLM Rally
David Zung
New York, NY
BLM Protest
Zak Krevitt
New York, NY
BLM Protest
Zak Krevitt
New York, NY
The Antithesis of What MLK Stood For
Tom Ella
New York, NY
The Antithesis of What MLK Stood For
Tom Ella
New York, NY
NYPD Attacks, Mass Arrests Protesters on MLK Day
Tom Ella
New York, NY
NYPD Attacks, Mass Arrests Protesters on MLK Day
Tom Ella
New York, NY
A View of Black Lives Matter