Click to view images larger.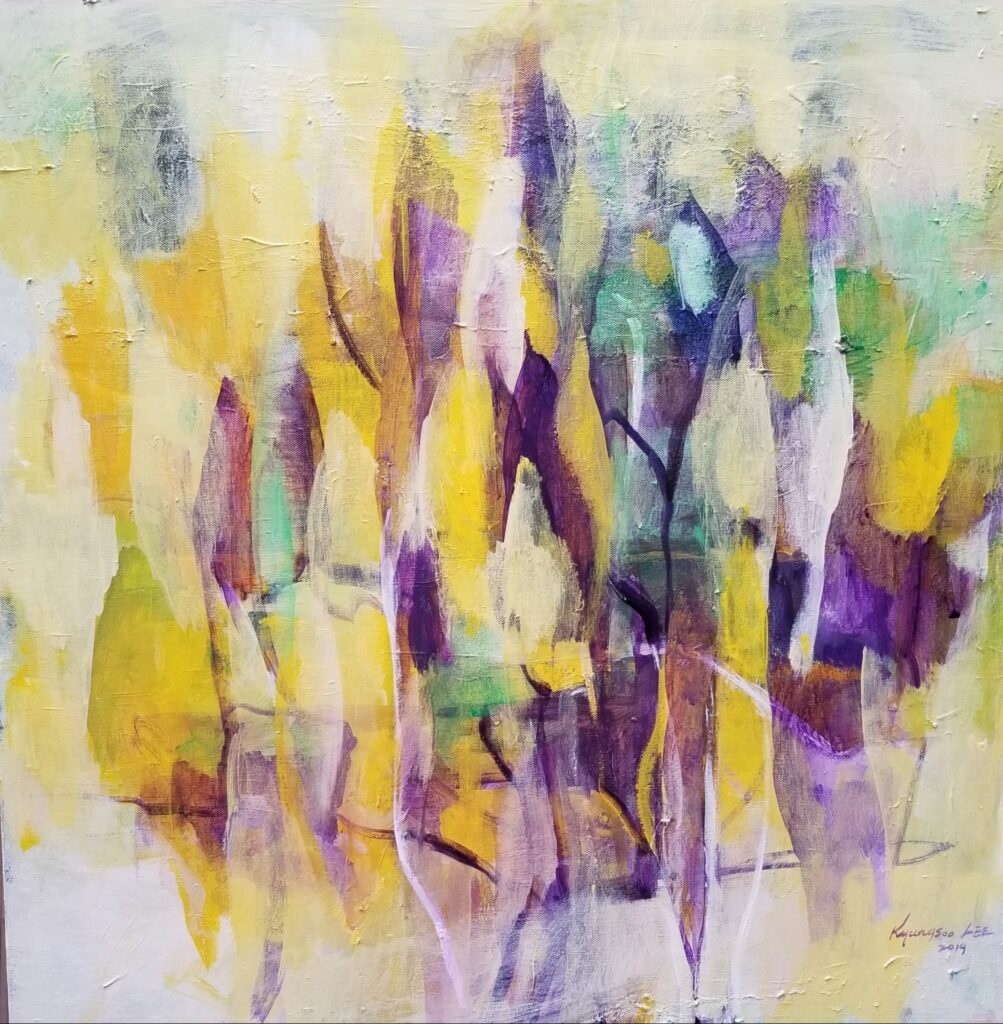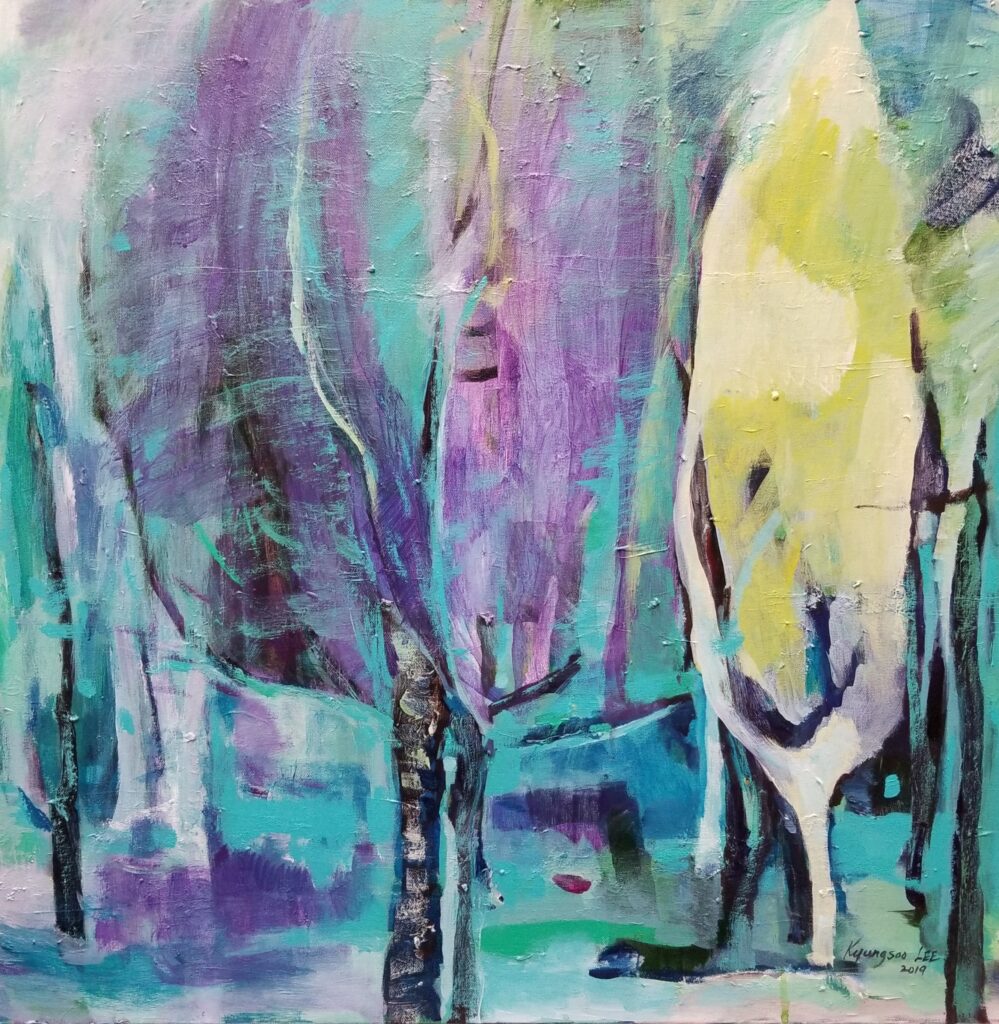 Growing Time, 30x30 inches, acrylic on canvas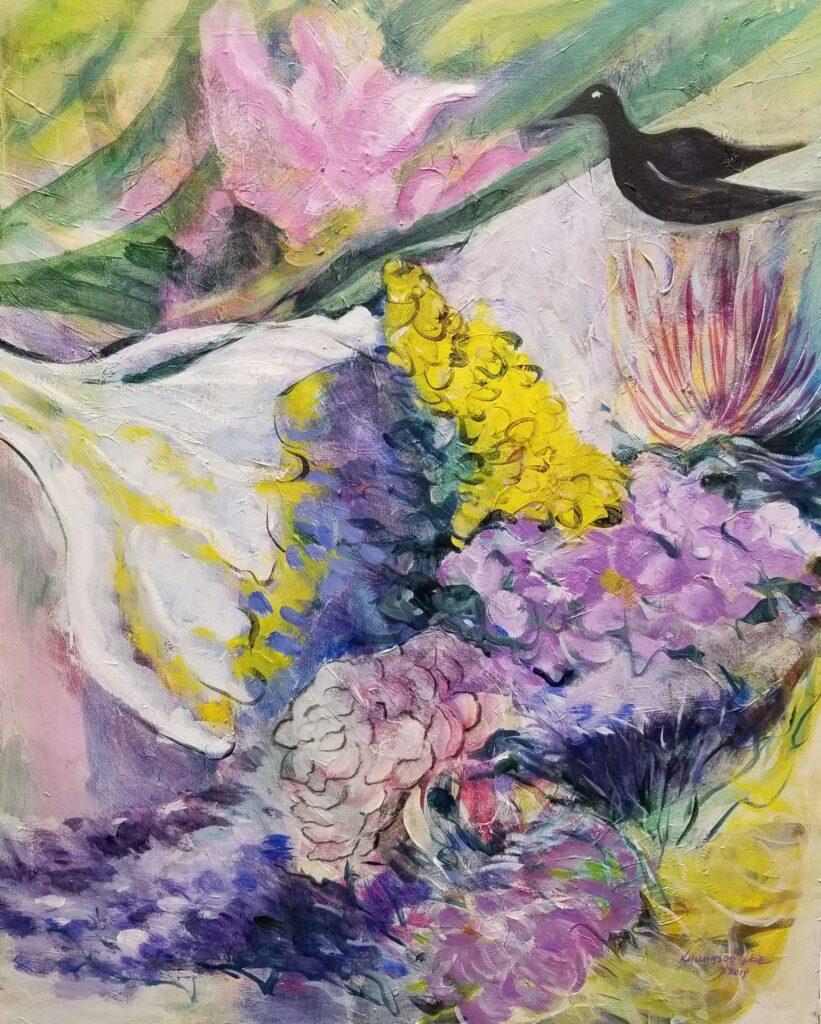 Humming Bird, 61x50.8cm (24x20inches), acrylic on canvas, 2014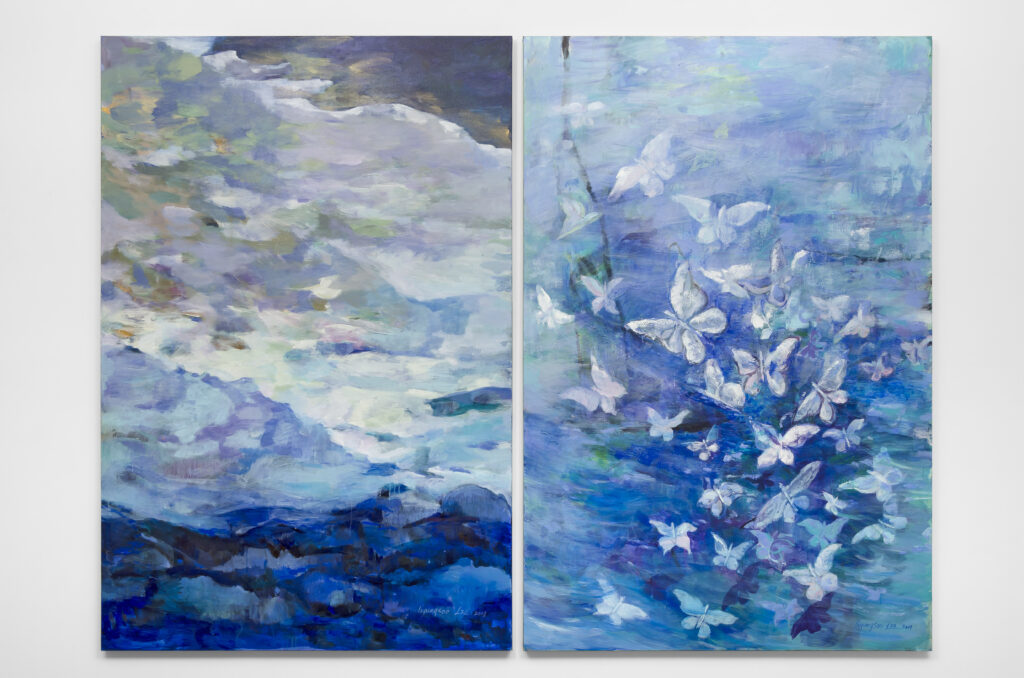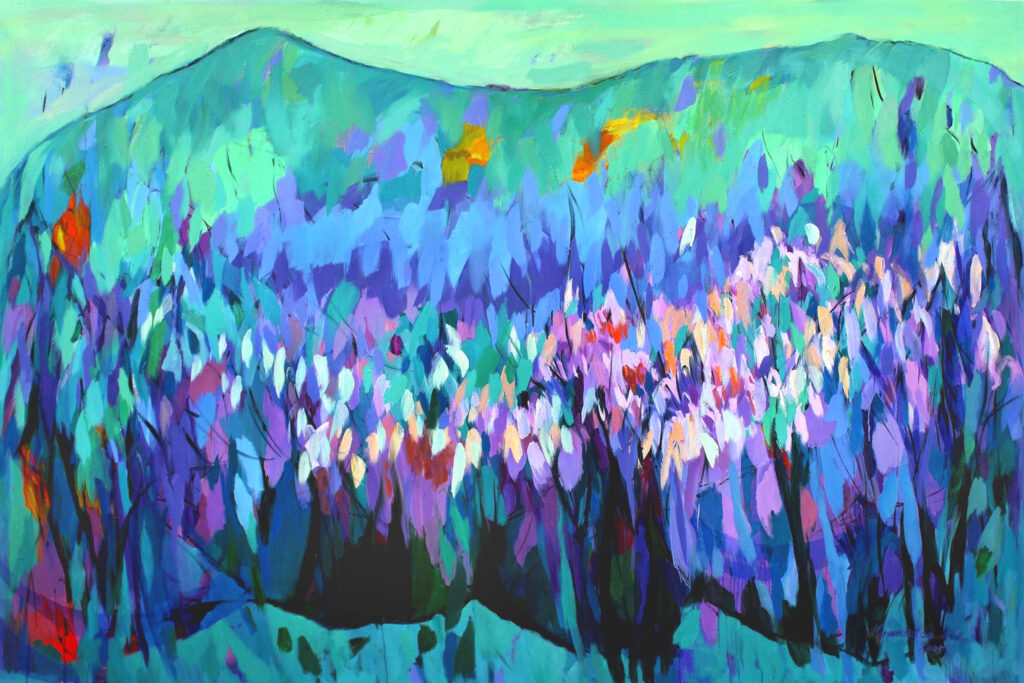 Sweet Dream, 170.1x259 cm(67x102 inches), oil on canvas, 2005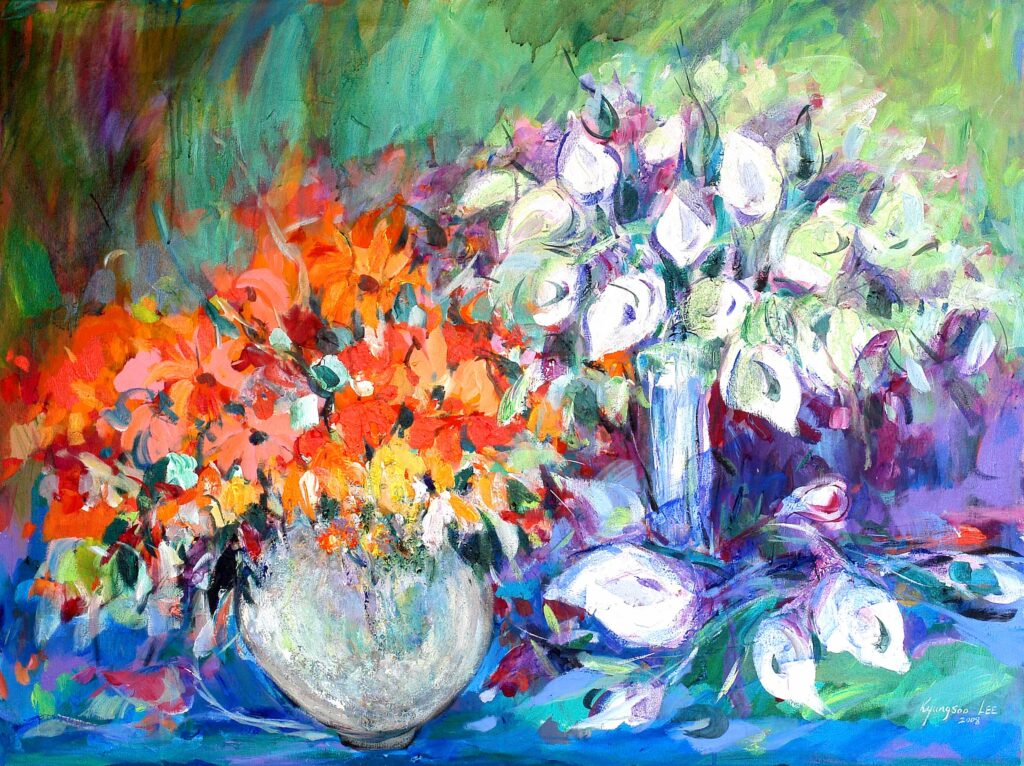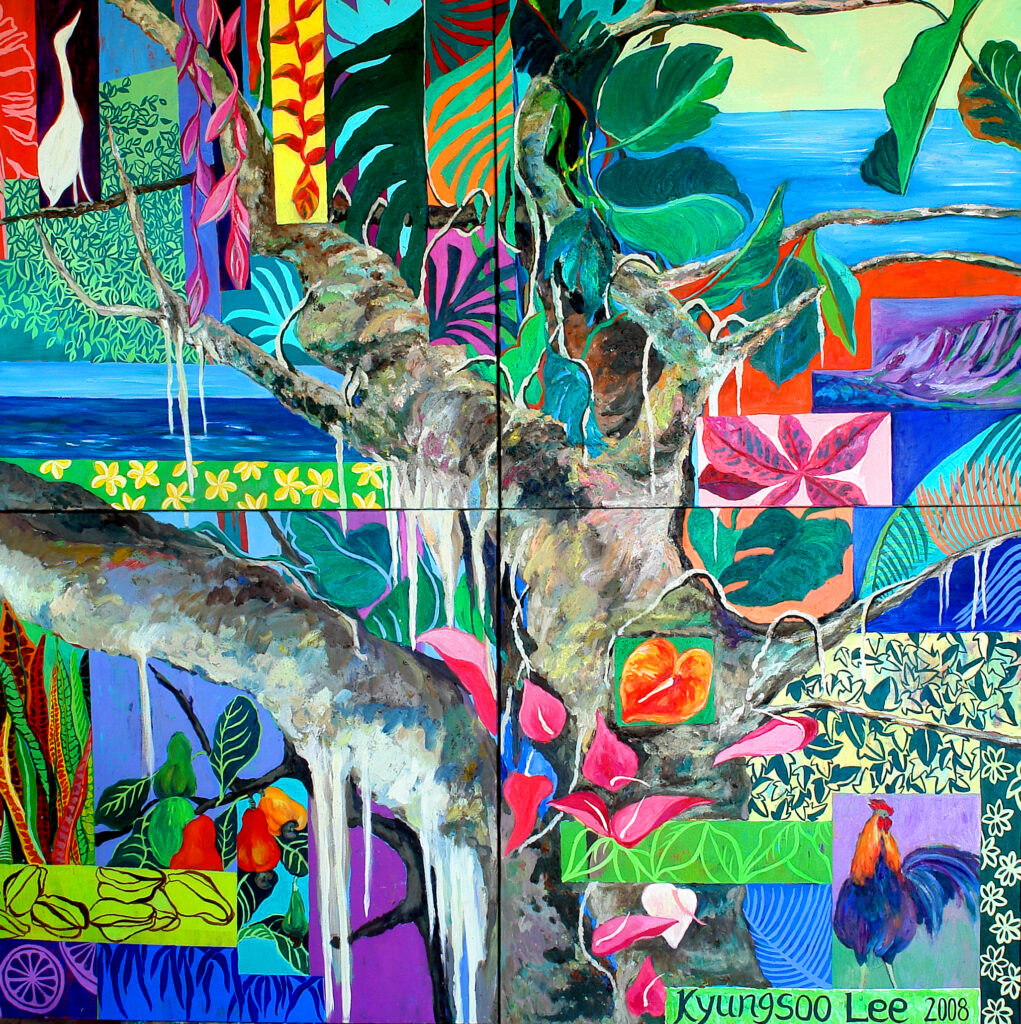 Nature's Treasures, 152x152 cm(60x60 inches), oil on canvas, 2008
Artist Kyungsoo Lee was formally trained in Seoul, Korea and received her M.F.A. from the Graduate School of Sungshin Women's University in 1983. And then, she immigrated to California, U.S.A. She is among the first generation of artists to be fully trained in a combination of oriental and western European aesthetics. The combination of traditional formalism and innovative postmodernism seems to be a fortuitous connection, and the whole becomes more than just the sum of the parts. The lyrical delicacy of the Zen painter is joined with the bold improvisation of the abstract expressionist, creating paintings that satisfy the soul as well as the intellect.
Lee approaches her canvas with apparently little or no preconceived notion of what will occur. She has the disciplined ability to quiet the verbal, analytical part of her mind and allow that silent creative half of the brain to dominate. Her painting is a process of discovery, evolving from the repetition of gestures and the layering of color over color. Her perceptive color sense lends strength to the delicate line and soft tones of her imaginary natural abstractions and inner landscapes.
Kyungsoo Lee is a painter. She has devoted the past forty years to painting. Because of this, she has achieved a facility to speak eloquently with line and color, to speak a poetry without words to those who are receptive.
Since she moved to U.S.A., she has shown her paintings in museums and galleries in Seoul, Paris, Los Angeles, New York, San Francisco, Bordeaux, Miami, Stockholm, Osaka, Hawaii, and the list goes on. Her paintings are found in collections around the world, collections of museums, corporations and individuals.

Kyungsoo Lee has been a teacher since beginning the "Art House" art school in Los Angeles, while also teaching at the Korean Cultural Center and Museums. For the past seven years, she taught art at Kauai Community College in Hawaii, and she taught studio art at the Los Angeles County Museum of Art.

Kyungsoo Lee recently published the essay book Aloha! Kauai, consisting of 88 works, 42 art and life stories created while the artist was living there from 2000 to 2011. First published in Korean, an English version is planned to be published soon!