How to Scale a Goats-for-Power Bartering System
In a world where energy prices have been skyrocketing and virtual digital currencies and assets such a Bitcoin and NFT's are increasingly taking hold as part of a global monetary system, sometimes to the chagrin of an older generation begrudgingly racing to comprehend them, one of the oldest, most understandable forms of trade is purchasing water, power, and farming inputs in rural Pakistan.
When innovative social entrepreneur Fariel Salahuddin, a Pakistani woman with a background in international energy finance and policy and a former World Bank consultant, visited a rural village two hours from her Karachi home in 2005 to assess the potential of a solar energy project, she discovered a place that she said felt like she had traveled back 200 years in time, with no running water, no electricity, and little connection to the outside world.  The minimal access to water came from tanker trucks driven from Karachi, and the water rationing meant that the villagers and their livestock were suffering from poor health and unsanitary conditions.
With her experience in energy and rural development, her immediate instinct was that introducing a solar water pump to the village would be a game-changer; but the cost of such a pump – over $10,000 in a village with an average household income of $70 per month – was more cash than existed in the entire community.
Fariel quickly realized that a great idea in a village with no access to cash was nothing but a dead end, until she saw hundreds of goats returning to the village from grazing.  What the village lacked in recognized currency they held in much more traditional assets – stock…or, in this case, livestock. 
She had an idea.
She approached the village elder, proposing that the village pay her with 40 goats in exchange for a new solar water pump.  He agreed.
Fariel became the unlikely owner of 40 goats, which, through her ingenuity and her personal connections, she was quickly able to sell in a burgeoning goat market associated with Muslim Eid festival rituals, more than covering the cost of the water pump.
And the village became the owners of a new solar water pump, which has had such extraordinary and varied effects from lowering the rate of miscarriages to improving childhood health to, yes, leading to larger and healthier goat herds for future trade.
The story of Fariel's exchange with that village was just the beginning of an ever-growing book of success stories, as Fariel – who became known as "the goat lady" – launched Goats for Water, which has grown into the ag-tech company UpTrade, with a mission of enabling smallholder rural, off-grid farming communities to meet their farming and household needs using livestock as currency. They are digitizing the livestock to not only track and trace the livestock, but also to create a digitized community currency.  55 villages with over 11,000 farmers have used the company's trading services  to acquire vital, life-changing access to water and electricity for their homes; and UpTrade's (and Fariel's) vision has expanded beyond solar water pumps to include fertilizer, tractors, drip-irrigation, and, Fariel envisions, smartphones and computers.
So how does a young Pakistani woman scale a goats-for-power bartering system?
Fariel credits part of her success in developing her usual trade market to another age-old currency, the currency of community.
While searching for the right puzzle pieces to expand from a single village to a movement, she was contacted by Summit Fellows, a U.S.-based global fellowship program launched by Gabe Quintela at the innovative Summit Series organization.
That fellowship program, under the leadership of thirtysomething Executive Director, Shira Abramowitz, soon blossomed into the free-standing nonprofit Summit Impact.  The start-up has a vision of "creating a network of open-hearted, imaginative leaders bringing ideas to reality, to create a better world" with a focus on cultivating a community of global change leaders – like Fariel – focused on connection, compassion, and collaboration.
In Summit Impact, Fariel discovered a community of diverse but like-minded innovative social entrepreneurs.  She no longer needed to chart a path on her own but was instead part of a network of 100-plus visionaries, each seeking the connections and guidance to take their change-making projects to the next level. Also connected to Summit's huge network of subject matter experts, ranging from blockchain to impact investors, life coaches, and mentors. 
Selected for the Fellowship from among a pool of hundreds of  international applicants, Fariel joined such varied young leaders as Merideth Spriggs, who, turned her own sense of despair that brought her from moments away from suicide to lifting others out of poverty by founding a nonprofit, Caridad, the teaches gardening to homeless veterans; Rahul Gayam, who is pioneering an electric tuk-tuk market to address climate change in Southeast Asia; and Artie Gonzalez, sentenced to life behind bars when tried as an adult as a 16-year old in the California judicial system, later released as a model prisoner, and now dedicating his life to promoting stories of redemption.  Summit Impact also connects Fariel and the other Fellows to a larger Summit community of accomplished entrepreneurs, advocates, and artists – leaders in their fields with innovative ideas and passion for making change. 
For Fariel, the magic in Summit Impact is much like the magic that she helped create for that rural village in Pakistan, where she empowered the villagers to leverage their existing assets to allow the community to help itself.  "It's not like Summit Impact gave me the capital to help me grow the business," she says.  "They gave me the resources and connections for us to grow it ourselves, and that is invaluable."
In cyberspace, the world will continue to trade in digital assets such as Bitcoin and NFT's, and no doubt there are more abstract assets to develop and comprehend. 
But in rural villages in Pakistan, through the vision of Fariel Salahuddin, "the goat lady," a younger leader herself powered by the currency of relationships and community through Summit Impact, the goats-for-power bartering system is being scaled and saving lives.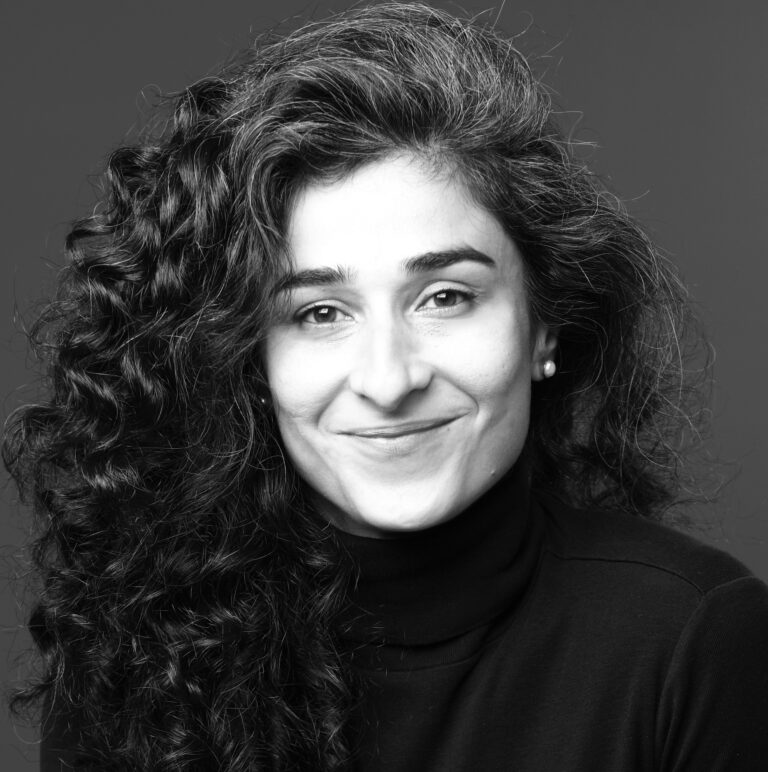 Fariel Salahuddin has over 10 years of international experience in energy finance, project development and energy policy. She is the founder and CEO of Uptrade/Goats for Water. She is also an energy specialist working on off-grid program design, energy policy, and renewable tariffs. She has worked in Indonesia, Egypt, Pakistan, and the MENA region on policy reform and project development. She has worked in both the private and public sectors advising governments and private sector companies on energy policy and renewable investment advisory.
Photo by Moriah Pettway

assistant editor
How to Scale a Goats-for-Power Bartering System