I
am 19-year-old Lydia Latifah Nansubuga from Uganda, Africa.
At the age of 13, l was to be married off to save my family from starvation.
I am the only girl in a family of five children, and I was the last born. As the climate crisis has resulted in food shortages, due to unpredictable and extreme weather, people are dying of hunger. I was to be married off as a child, because the dowry that my family would receive, known as "the bride price," would allow my family to buy food so that they may live longer.
But l did not want this. All l wanted was an education to become a lawyer to fight for the rights of girls, who are forced into child marriage. Many of my sisters in Africa are being forced into child marriage.
I decided to be the author of my own destiny. l was going to grow food for my family, rather than losing my life to become the source of money for food.
I come from a Suburban Slum in Uganda where there is debris around. I collected used plastic containers to use as food planters and also reduce environmental pollution. I found seeds in the garbage to plant. Overcoming the food shortage, for my family due to the climate crisis, I was able to successfully grow food to provide for my family, allowing me to escape the fate of child marriage. This I call Climate Smart Urban Farming.
I wish for platforms that will amplify my voice, as I want to bring justice to our natural environment and girls who are considered commodities. I want people to know the realities of the climate crisis, leading to starvation and therefore, human rights abuses of young girls, such as forced child marriage and forced prostitution. Girls in the position I was in do not have a voice to raise awareness about the injustice and how it affects us, as many societies see child marriage as normal.
l wish to teach Climate Smart Urban Farming to everyone in the world who needs to learn this skill, to join me in fighting the humanitarian effects of the climate crisis, and to help so many girls in Africa and in the world, who have experienced what l went through. While world leaders must make decisions that protect our natural environment, so that people have enough food to eat, we can also help ourselves. Climate Smart Urban Farming is a no-cost, do-it-yourself farming method through which people in low-income urban settings can grow healthy food safely using scrapped food seeds, homemade compost, and found containers for pots and planters.
I wish for an opportunity to study at a university.
I wish for an opportunity to help young girls believe that there is hope, and we can be solution creators.
So here l am, a youth who nearly suffered forced child marriage, taking a stand as a voice for the silenced. My voice matters and is my power and tool for freedom and justice.
View photos of
Lydia Latifah Nansubuga below
Click to view images larger.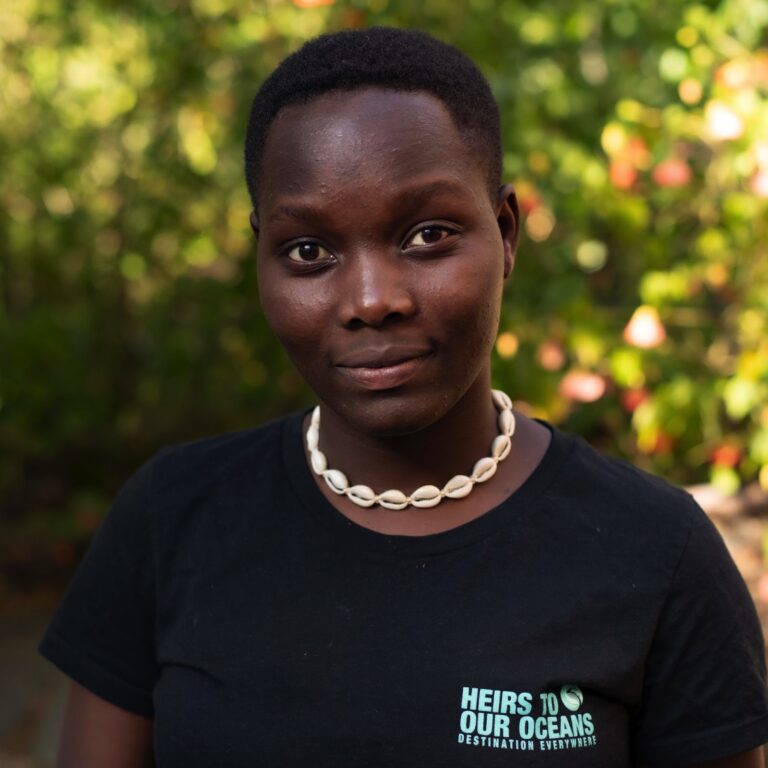 Lydia Latifah Nansubuga
activist
Lydia Latifah Nansubuga ("Latifah") is a 19-year-old senior high school student and youth activist in Kampala, Uganda. She is the chapter youth leader for Uganda Heirs To Our Oceans, and she speaks out against injustices toward girls, due to the effects of the climate crisis. Latifah has been a leader in her community since she started a program called, Climate Smart Urban Farming (CSUF). The CSUF program has taught over 100 girls (and 70 boys) how to sustainably grow food for their communities and take agency for their future, providing empowerment and security to young girls who otherwise may have fallen victim to forced child marriage, teenage pregnancies, denial of education, and the impacts of famine and starvation. As someone who nearly fell victim to these challenges herself, Latifah sees CSUF as an important income-driving force for local communities and a critical urban solution to tackle food scarcity. Latifah is an inspiration to girls in Africa and across the world to those who hear her speak. 
Heirs To Our Oceans (H2OO) provides open-access skill-building opportunities to youth who share our Blue Planet.  Read more about H2OO and support at https://h2oo.org/ and follow what H2OO youth are up to on Instagram, Twitter, and LinkedIn