Hi, my name is Flynt, and I am 11 years old. Ever since I was little, the ocean has always fascinated me! I was especially interested in the deep sea, because we know so little about it. When I turned 10, I joined Heirs to Our Ocean, and started learning more about everything that we need to fix. I recently learned about deep sea mining, and its impacts on deep sea life. Deep sea mining is very confusing because the way that minerals are being extracted now is bad, but some people may think that deep sea mining could be the solution. Deep sea mining enthusiasts believe it would be a great way to get minerals and resources, if we could find an effective way to do it. Is there truly an effective way to get these minerals without harming the many sea creatures? This paper examines the methods that are currently used to extract minerals and challenges the reader to consider exploring this topic further. 
I
magine a world where there are no coral reefs, not many fish, everything covered in plastic, and with huge trails from remotely operated vehicles (ROVs) that leave destroyed habitats and dead animals in their wake. That is what the future will look like if we don't stop deep sea mining. Deep sea mining is when companies extract deep sea minerals from the ocean. 
What Are Nodules?
Deep sea nodules are rocks that form on the bottom of the deep sea. They are small, potato-shaped stones that have lots of minerals in them, such as Nickel, Cobalt, Copper, Manganese, Iron, Lead, Zinc, and Cadmium. We use these minerals to make car batteries, cell phones, iPads, and other smart devices. "According to an estimate, an area of 300-600 sq km will be disturbed every year for mining of 1.5 -3 million metric tonnes of nodules per year," (Sharma 205). 
How To Extract Nodules 
To get the nodules, people send out boats and a big tube connected to a big ROV that shovels the nodules and sends them up through the tube that it's connected to. Then, the nodules are separated from the sand. People put the sand through a different tube that blows it out. There are some pictures above to clarify. Also, it is important to remember that each one of these nodules are around the size of an average human head, and these robots are a lot bigger. People want to mine the deep sea more than land because the nodules have a higher concentration of minerals in them than can be mined from the land. This is because of the hydrothermal vents, which are basically underwater volcanoes that have lots of minerals. Luckily, deep sea mining is in its early stages, so we can make laws against harmful deep sea mining. 
The Ecosystems That Are Threatened 
Even though humans can get lots of minerals, deep sea mining has negative impacts on the animals. When robots mine, they kill animals because they run over everything and flatten it.
They also emit a lot of light, and in the deep sea there isn't a lot of light, so it disturbs creatures living there. Deep sea creatures are like molds that live in the dark and light startles them. There are also many more impacts, such as vibration and noise. Since the ROVs are huge, when they move, they create vibrations that can disturb the fish. This happens because it is quiet in the deep sea, and the vibration can both kill them and disorient them when they try to use echolocation to hunt; therefore, they are not able to get food. 
When people mine in the ocean, they usually take a big robot that shovels the sand and nodules. When the robots shovel everything, it destroys the ecosystems there. Many animals live on the nodules, or in the sand, and mining the ecosystem kills animals. We don't know a lot about the deep sea, meaning we could kill new organisms before we even knew they existed, and some of the creatures could help us solve problems. There are worms that can eat plastic, and in sharks there are mini antibodies that could lead to a drug for cancer and other diseases. If we destroy the deep sea, we may destroy these creatures. 
When we disturb the sediment in the deep sea, it will take a lot longer to go back to its normal state because there aren't a lot of currents to push sand and cover up the damage from the ROVs as opposed to in shallow water. Now, one might say, "We shouldn't mine the deep sea," but we may need to in order to get the minerals we need. Land mining is just as harmful and the nodules are not deep underground. There are a lot more minerals in the deep sea. So what do we do? Well, if we can mine the deep sea without destroying the ecosystem, then we can easily get minerals. But could robots that individually pick up nodules truly do so without destroying life on the seafloor and impacting the ocean?
We need to find a way we could possibly mine without hurting any ecosystems, lands, or oceans. An example might be a drone that could individually pick up the nodules without destroying its surroundings. If we can find a way to mine sustainably, there are the world benefits of getting the minerals for use in products, such as car batteries and other products that require minerals. The first step is awareness. We need to tell people about this issue, tell our friends, write papers about this issue, and post in social media so that others know the concerns around deep sea mining. Next, think of a solution. We all need to work together and put our ideas together to find a way to harvest the minerals we need, while keeping our planet alive. Finally, we must put these ideas into action. Join groups such as Heirs to Our Oceans and help collaborate with fellow youth leaders to make laws and bring awareness.
REFERENCE LIST 
A Climate Solution Lies Deep Under the Ocean—But Accessing It Could Have Huge Environmental Costs — TIME. 
Ackerman, Daniel. "Deep-Sea Mining: How to Balance Need for Metals with Ecological Impacts." Scientific American. 
Amon, Diva J., et al. "Insights into the Abundance and Diversity of Abyssal Megafauna in a 
Polymetallic-Nodule Region in the Eastern Clarion-Clipperton Zone." Scientific
Reports, vol. 6, no. 1, July 2016, p. 30492.
Deep-Sea Mining: Lingohack. https://www.youtube.com/watch?v=p_ujcuabZiw. 
Gollner, Sabine, et al. "Resilience of Benthic Deep-Sea Fauna to Mining Activities." Marine
Environmental Research, vol. 129, Aug. 2017, pp. 76–101. 
Mining the Deep Sea: The True Cost to the Planet | The Economist.
https://www.youtube.com/watch?v=7HoVwJH-_so.
"'Momentous' Moratorium on Deep Sea Mining Adopted at Global Biodiversity
Summit." Common Dreams. 
Peacock, Thomas, and Matthew H. Alford. "Is Deep-Sea Mining Worth It?" Scientific American, vol. 318, no. 5, Apr. 2018, pp. 72–77.
Sharma, Rahul. "Environmental Issues of Deep-Sea Mining." Procedia Earth and Planetary 
Science, vol. 11, Jan. 2015, pp. 204–11, doi:10.1016/j.proeps.2015.06.026. 
Smith, Craig R., et al. "Deep-Sea Misconceptions Cause Underestimation of Seabed-Mining 
Impacts." Trends in Ecology & Evolution, vol. 35, no. 10, Oct. 2020, pp. 853–57.
Song, QingHui, et al. "Longitudinal Vibration Compensation Model of Stepped-Pipe Strings in
Deep-Sea Mining." PloS One, vol. 15, no. 11, 2020, p. e0241650, 
doi:10.1371/journal.pone.0241650. 
Spearman, Jeremy, et al. "Measurement and Modeling of Deep Sea Sediment Plumes and
Implications for Deep Sea Mining." Scientific Reports, vol. 10, no. 1, Mar. 2020, p.
5075.
Vonnahme, T. R., et al. "Effects of a Deep-Sea Mining Experiment on Seafloor Microbial
Communities and Functions after 26 Years." Science Advances, vol. 6, no. 18, May
2020, p. eaaz5922, doi:10.1126/sciadv.aaz5922. 
Warning for Pacific Governments Gambling on Deepsea Mining. 
https://amp.rnz.co.nz/article/8ebcbf71-6942-4563-8f7c-34c5ac6d52ae. Accessed 27 Sept. 2021.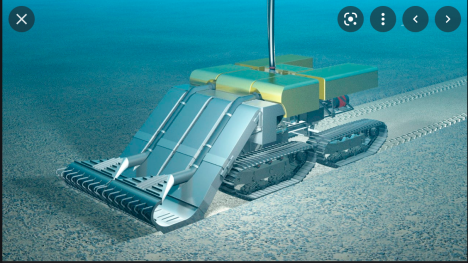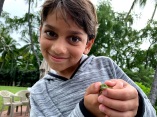 Flynt Rajiv William Robertson
Marine enthusiast. Animal lover. Homeschooler
Flynt Robertson is an 11-year-old, who lives on Ohlone Ramaytush lands in the San Francisco Bay Area. He ponders marine life and is interested in exploring the bottom of the sea. He spent the past 1.5 years studying with Dr. Alfredo Giron-Nava, and designed a blog on marine topics. Flynt has traveled to 4 continents and traveled 150 trips. Flynt is a talented pianist and received his junior black belt in Tae Kwon Do as an 8-year-old. He lives with 2 dogs, 2 cats, 1 tortoise, and 4 humans.
Heirs To Our Oceans (H2OO) provides open-access skill-building opportunities to youth who share our Blue Planet.  Read more about H2OO and support at https://h2oo.org/ and follow what H2OO youth are up to on Instagram, Twitter, and LinkedIn