Save the story = save the whales
I
don't know what I was thinking, but it wasn't about my tendency to throw up at sea. I just wanted to see whales. When I realized that I could visit my friend, Rosie in Boston and go out on a whale watching tour, I signed up. 
No one told us that there were whales off our coast when I was growing up in Savannah, Georgia. When you think of the Southeast coast of the U.S., you don't think of whales. I'd seen shivers of sharks, pods of dolphins, fevers of stingrays, smacks of jellyfish, and many consortiums of crabs. Never, ever had I heard of, much less seen, any whales off our coast. 
There used to be thousands. North Atlantic Right Whales still travel from as far up as Canada to the warm waters off the coast of Georgia and north Florida. In our south, the newborns can comfortably swim until they've built up layers of fat to protect them from frigid northern waters. If I'd known, I would've spent my long days on Tybee Island, scanning the horizon for spray from their blowholes. 
Now, my best shot at seeing whales of any kind was to embark on a New England Aquarium tour from Boston harbor. I scurried to the top deck without so much as a ginger chew in my pocket. 
They were named "right whales" by humans because they were slow moving and continued to float after death. That made them the right whales to kill. People used their blubber for lamp oil and sometimes meat once preservation techniques allowed it. The whalers up and down the coast must've thought there was an endless supply of them. That's what most people believed about everything once…an endless supply just for us. (Indigenous people had a wiser perspective, but that's another related story).
The boat was crowded, and the first forty-five minutes were whale-free but there were rumors that we'd see humpbacks soon. I denied the first inklings of queasiness that washed over me. I took deep, smothering breaths of salty fresh air. I told myself that I could tamp down the nausea with yoga-breathing. (I just noticed that the word "sea" is half of the word "nausea")
Rosie raised an eyebrow at me. 
"You're green," she pronounced, and went to see if the snack bar had Dramamine. They didn't.
The Humpbacks appeared, slapping their great acoustic fan tails. There were Minke whales too. The more the ocean swelled, the more whales accompanied us. As others ran back and forth, I learned that I could stay put, strategically clinging to the guardrail to retch alone. I managed to sustain whale-watching joy, even as I longed for shore or death, whichever came first. 
Over the loudspeakers, the marine biologist gave us clock positions for the best whale-viewing. I strained to hear her over the loudspeakers and the crowd "Ahs." She was excited.
"At two o'clock off the starboard side, you can see a single water spout far in the distance. Based on the radar," she said, "we're almost positive that it's a North Atlantic Right Whale. You're lucky to get a glimpse. There are less than 350 remaining in the whole world."
I could see the thin but distinct column of spray from a solitary whale. It was quite a contrast from the large pods that had danced all around us. We couldn't get any closer. Their endangered status means we must leave them alone. Finally. 
We no longer need whale oil. Whale meat is not only unattractive to most of us, but we now know that it is full of mercury and no doubt microplastics. Now, we threaten them in different ways, with fishing gear entanglements and ship strikes. They're still too slow for these hazards. We don't see them until it's too late, if at all. We're everywhere; unavoidable to them as they just attempt to live their lives as whales.
Whales are what biologists call "charismatic megafauna." These are animals like elephants, sea turtles, and bears, suitable to have their likenesses on décor and stuffed toys because we love the idea of them. We connect to them through stories, cartoons, and fables from the time we're young.
I understand that "Save the Whales" has connotations. It can be snide shorthand for a certain kind of elitist environmental cliché that promotes the value of wild animals over social justice for humans. Let's not fall for that. This isn't an "either/or" fight. We're all connected, and that's the story we're telling – through whales connected to an intergenerational, bi-racial family in the deep south. "Whale Watchers" are about more than whales. It's about family and what we value, and what we choose to nurture – or not. 
Knowing facts and figures and actions to take won't save whales – or the rest of us. 
We are hard-wired for stories that connect us on a spiritual and emotional level. I still believe that our hearts will drive us to act where our minds have fallen short. Save the Story = Save the Whales.
Suzan Satterfield is a documentary filmmaker, a writer/producer of narrative features and television, and a lover of animals and kind humans.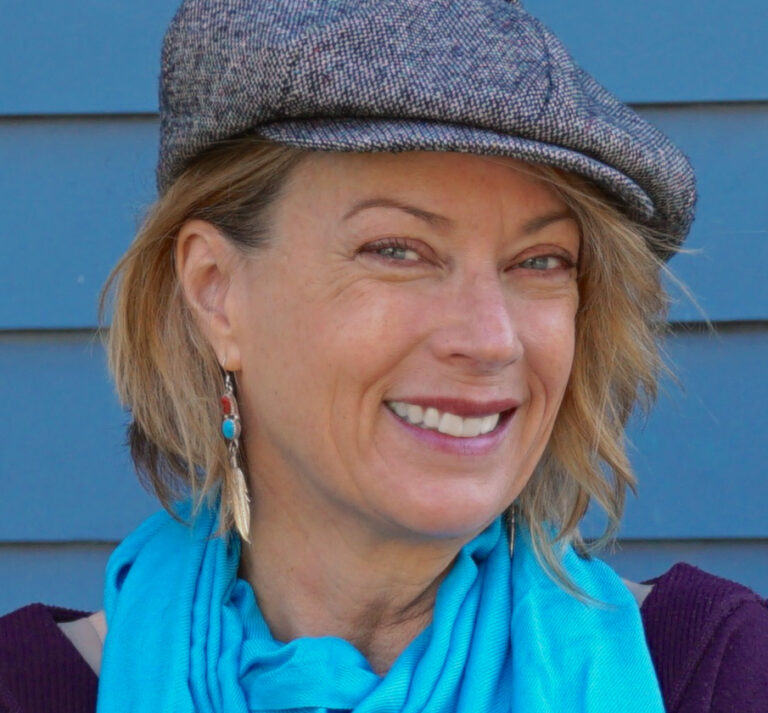 Suzan Satterfield
Filmmaker/
Producer/Writer
Suzan just can't stop thinking of new ways to tell environmental and social justice stories. Most of her inspiration happens in the shower, on long walks with her Border Collie Mix, Billie Holiday, or while trying to sleep. When she's not in her (not pristine) office, she's out shooting, "EcoSense for Living," an indie PBS series with her DP husband, Allen and the crew, writing a new TV pilot, trying to learn Portuguese, (O gato tem uma chave!) listening to The Daily podcast, or eating the best (sustainable) chocolate she can afford.

Photo by NOAA Photo Library
Save the Story = save the whales