5th Planetary Health Annual Meeting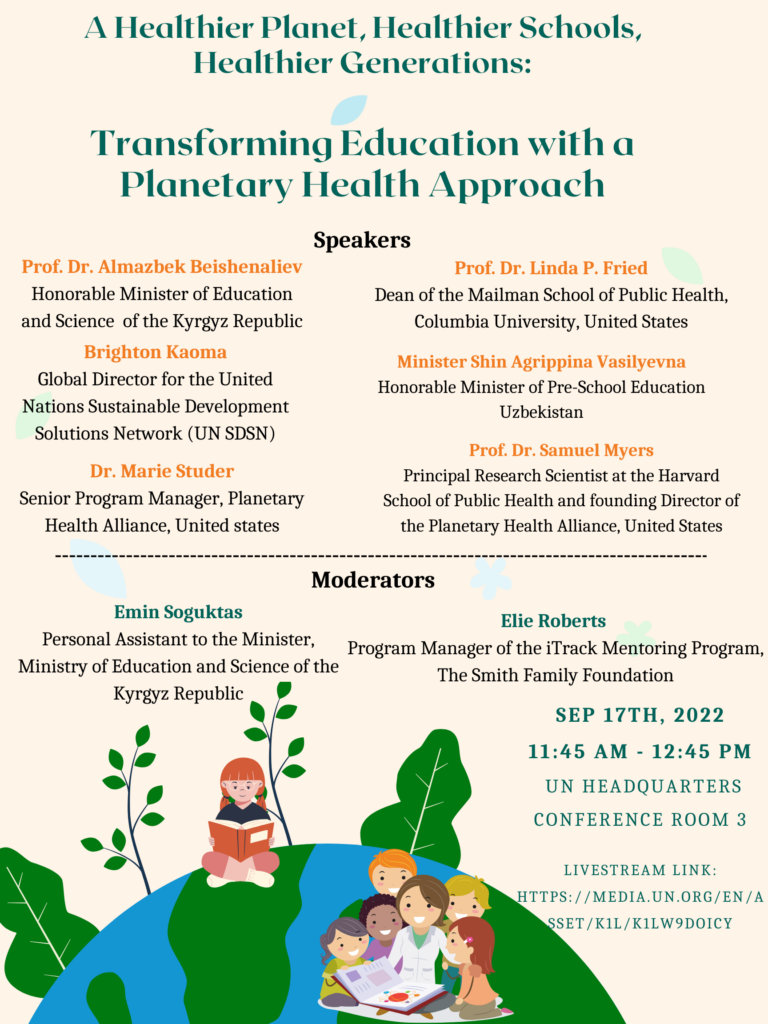 About the Planetary Health Annual Meeting: 
The theme of the 5th Planetary Health Annual Meeting (PHAM) is Planetary Health: Building the Field and Growing the Movement. See the schedule and learn about our speakers, who are an incredible group of Planetary Health leaders from around the world.
​
All are invited to this fully hybrid convening of scientists, youth, policymakers, educators, private sector, artists, and others to learn about the complexities of Planetary Health science, find community, seek solutions, and build skills for action and change. The in-person sessions will take place at Harvard University, Boston, MA, USA. 
About Planetary Health:
Planetary Health is a transdisciplinary field focused on characterizing, quantifying, and addressing the human health impacts of accelerating global environmental change. At the heart of the field is that human-caused changes in Earth's natural systems — climate change, biodiversity loss, pollution of air, water and soil, resource scarcity, and land use change — are interacting to threaten every dimension of human health, including mental health, non-communicable disease, infectious disease, malnutrition, and displacement and conflict. Fundamentally, we cannot safeguard human health and wellbeing into the future without deep, structural change in how we live.
About the Planetary Health Alliance
The Planetary Health Alliance (PHA) is a consortium of over 320 universities, non-governmental organizations, research institutes, and government entities from over 60 countries committed to understanding and addressing global environmental change and its health impacts. To support the rapid growth of a robust, interdisciplinary field of planetary health, the PHA works to:
Encourage and empower a diverse global planetary health community that crosses sectors, disciplines, generations, worldviews, and geographies;
Facilitate the education and training of current and next generation planetary health practitioners through the development and curation of open-access resources, mentorship and leadership opportunities, and programs from primary to university levels;
Mainstream planetary health science, stories and solutions through broad public outreach and direct engagement with civil society, private sector, general public, and governments;
Promote actionable steps that individuals and society can take to advocate for and achieve progress toward planetary health.
A healthier planet, healthier schools, healthier generations: Transforming education with a Planetary Health Approach
This talk was part of a panel presented at the UN Transforming Education Summit, September 17, 2022. The panel was hosted by the Ministry of Education and Science of the Kyrgyz Republic, which is leading an initiative to create a Ministerial Level Planetary Health Education Working Group affiliated with the UN system.
Elements of a successful Planetary Health education approach
Marie Studer, Senior Program Manager, Planetary Health Alliance
The central insight of the field of Planetary Health is that the environmental and global health crises the world is experiencing are intimately connected. Indeed, the human-caused Earth crisis is precipitating a humanitarian and global health crisis that threatens to reverse the past 50 years of gains in human development. The core proposition of Planetary Health is that humanity's ecological footprint has expanded so massively over the past 50 years that our planet can no longer sustainably provide the resources we are using or absorb the wastes we are producing. As a result, we are transforming not only the global climate system, but nearly all the natural systems on the planet.
The world is at an inflection point where we can either continue our current trajectory of degrading Earth's natural systems, impacting all dimensions of health and jeopardizing our future or we can learn how to make the changes necessary to safeguard a livable future for all life on Earth.
A thriving and livable future is possible to attain, but to achieve it people across the planet need to understand the scale of the Earth crisis and its impact on our wellbeing, the urgency of the moment we are in, and to acknowledge that transitioning to a livable future will take all of us and it will take new thinking and creative approaches. To enable these changes, we all need to learn and act in new ways. We need to learn what the problems are, and to think differently about how to solve them. Learning is a key step – and enabling this learning is an essential part of what the Planetary Health Alliance does.
Planetary Health is a framework for understanding the complex interconnections that are driving the Earth crisis and identifying and acting on solutions to the challenges confronting our daily lives and long-term survivability. Building on the unique role and responsibility of education institutions in shaping our futures, embedding Planetary Health education in curricula at all levels of learning is an essential step toward achieving transformative change and developing the leadership needed for that change. Planetary Health education across all levels and disciplines will equip and enable learners with the skills and knowledge necessary to drive transdisciplinary and mutually reinforcing actions to protect and restore Planetary Health and achieve the UN Sustainable Development Goals.
Members of the Planetary Health Alliance have developed a Planetary Health Education Framework that includes five foundational concepts deemed essential for Planetary Health education initiatives. This framework can be applied to all domains of learning from the sciences to humanities to technical education, and across all age-levels. These concepts are:
Interconnection with Nature – this can be taught by drawing upon Indigenous and traditional knowledges, arts, humanities, and scientific understanding, which all emphasize that humans are embedded within Nature.
The Anthropocene and Health – we need to provide the evidence base demonstrating the scale of humanity's ecological footprint on the planet and the consequences of unstable natural systems on all dimensions of human health. We must also educate people – and give them hope – that the converse is also true: that by improving the condition of natural systems, we can improve health and wellbeing for all life on Earth.
Complex Systems Thinking – it's critical to build a student's capacity to take into account the features and elements of a system, how they work together, and how they influence each other, including unintended consequences.
Equity and Justice – we need to create awareness that the health burden of degraded natural systems disproportionately affects future generations and people with the fewest resources, who are often least responsible for environmental changes, and that structural societal changes are required to ensure a future of Planetary Health for all.
Movement Building and Systems Change – we need students to develop skills necessary to bring together diverse communities that are transdisciplinary, multicultural, and intergenerational to ensure all voices are heard and enable all people to act as changemakers.
In general, across education initiatives developed globally, these foundational concepts remain consistent, while the specific content and case studies should be culturally and regionally relevant and will change as knowledge is advanced and new circumstances arise across society. The Planetary Health Education Framework, other educational resources, and a number of case studies are available through the Planetary Health Alliance to help educators adopt a Planetary Health approach.
That describes the elements of Planetary Health education, but how does it get integrated into education systems?
First, through vision and leadership as exemplified by the Honorable Ministers to reimagine our education systems from pre-school to post-graduate and create global Planetary Health educational initiatives.
And secondly, through collaboration, sharing the latest resources and educational approaches, evaluation, and iteration. At the Planetary Health Alliance, we are working to capture as much of this information as possible and to reflect it back to our community to build upon and improve.
Across the globe we are seeing the demand for Planetary Health grow. The Planetary Health textbook has just been translated into Japanese, Italian, and French, and there are several examples of Planetary Health being integrated into medical school and nursing curricula, and new Departments and Chairs appointed in schools of Public Health; while some universities are mandating that all incoming students take a Planetary Health general education course. Planetary Health is being integrated into arts and humanities programs, and there are initiatives to develop toolkits for primary and secondary school educators to bring Planetary Health into their classrooms.
However, at the moment, these are all independent endeavors and to truly address our global challenges, we need a more systematic and scalable approach to developing and implementing Planetary Health education systems. To that end, we look forward to working with the global education community to achieve this goal and provide ourselves and our very capable youth with the tools, training and knowledge needed to shape a thriving future.
Marie Studer, PhD is the Senior Program Manager for the Planetary Health Alliance (PHA), based at the Harvard T.H. Chan School of Public Health. Her career has focused on public accessibility and understanding of science through government and public policy positions, to scientific and education leadership for international citizen science projects, to engaging formal and informal educators and youth in biodiversity learning, using hands-on and online resources and tools. She is especially interested in creating awareness of and action around the planetary health framework to address the UN SDGs and other international targets focused on a regenerative society where all people can thrive.
Photo (left) by Manjari Misra
5th Planetary Health Annual Meeting