Game-Changing Women: Helen Rodriguez Trias
To discuss the works of "game-changing women" without including the triumphs of Helen Rodriguez-Trias would be an insult to all Latinas pursuing social justice or medicine. Not only did she fight for reproductive rights and maternal health, she also reformed the healthcare system to create more accessibility for people of color, those with language barriers, and individuals with HIV/AIDS.
Dr. Helen Rodriguez-Trias was born in 1929 in New York City and was raised by her parents in Puerto Rico. Her mother, Josefa Trias, was her inspiration to fight for a fair society and to constantly push for social justice. Josefa Trias was a schoolteacher in Puerto Rico, who championed provided-for school lunches and Spanish-based classes during the genesis of United States occupation of the island. Her work served as a motivation for Dr. Helen Rodriguez-Trias's later accomplishments.
Growing up as a Puerto-Rican woman in New York City was no easy feat. Dr. Helen Rodriguez-Trias faced discrimination constantly in her adolescence; these hardships failed to detain her from her dream of pursuing a career in medicine. After graduating from the University of Puerto Rico School of Medicine, Dr. Helen Rodriguez-Trias quickly began her work in social justice by creating Puerto Rico's first prenatal care center. In the three short years following the center's creation, the infant mortality rate was cut in half, and she ultimately transformed Puerto Rico's deficient reproductive and maternal health care system.
She continued her combined work of social justice and medicine when she turned to public health medicine. Lincoln Hospital, which was located in a predominantly Black and Latino community, was characterized with ceaseless substandard healthcare. The state of this hospital was revolutionized when Dr. Helen Rodriguez-Trias's bilingual skills were able to mend the divide between communication with patients and faculty. She would become the head of its pediatric unit and would continue to criticize the lack of accessibility, and quality of women's reproductive health.
Perhaps her most inspiring accomplishment was Dr. Rodriguez-Trias's work in ending sterilization abuse in disadvantaged women. Throughout the 20th century in the United States, the forced sterilization of women who were poor, disabled, black, Indigenous, or people of color, was used to perpetuate white supremacy by promoting white reproduction and limiting the reproduction of minority women. Often, disadvantaged women were not able to get access to birth control or other tools for regulating reproductive health. Dr. Rodriguez-Trias's efforts were integral in the movement to end sterilization abuse. She was a founding member of the Commitee to End Sterilization Abuse and the Commitee for Abortion Rights and Against Sterilization Abuse. After testifying against the nonconsensual sterilization of women before the Department of Health, Education, and Welfare, she contributed to the new guidelines that required a woman's written consent, in her preferred language, to sterilization.
Her work in the combination of social work and medicine did not end there. She went on to work as the medical director in the New York State Department of Health AIDS Institute, where she advocated for women and children with AIDS to have equal access to healthcare, and provided training for first responders to recognize the signs of domestic abuse and sexual assault. She is co-founder of the Women's Caucus and the Hispanic Caucus of the American Public Health Association. She became the first Latina president of the American Public Health Association, and she received the Presidential Citizen Medal in 2001 for her work in public health by protecting low-income and minority women.
If all of her accomplishments do not yet qualify her as a game-changing woman, Dr. Helen Rodriguez-Trias continues to affect young Latinas by representing their culture and people in the professional worlds of medicine and social work, which are typically lacking in Latina role models. Latina representation in medicine is scarce, often due to ethnic discrimination or systemic income inequality. Dr. Helen Rodriguez-Trias was able to suppress these cultural barriers and continue to advocate for what she believed in, and in doing so, create a more equitable healthcare system for disadvantaged women.
Works Cited
https://fpscny.org/womens-history-month-dr-helen-rodriguez-trias/
https://cfmedicine.nlm.nih.gov/physicians/biography_273.html
https://www.nps.gov/people/dr-helen-rodr%C3%ADguez-tr%C3%ADas.htm
https://centropr-archive.hunter.cuny.edu/centrovoices/chronicles/hidden-gems-archives-dr-helen-rodriguez-trias
https://nwhn.org/a-brief-history-of-sterilization-abuse-in-the-u-s-and-its-connection-to-ice-mass-hysterectomies-in-georgia/#:~:text=Throughout%20history%2C%20women%20in%20the,to%20a%20procedure%20is%20critical.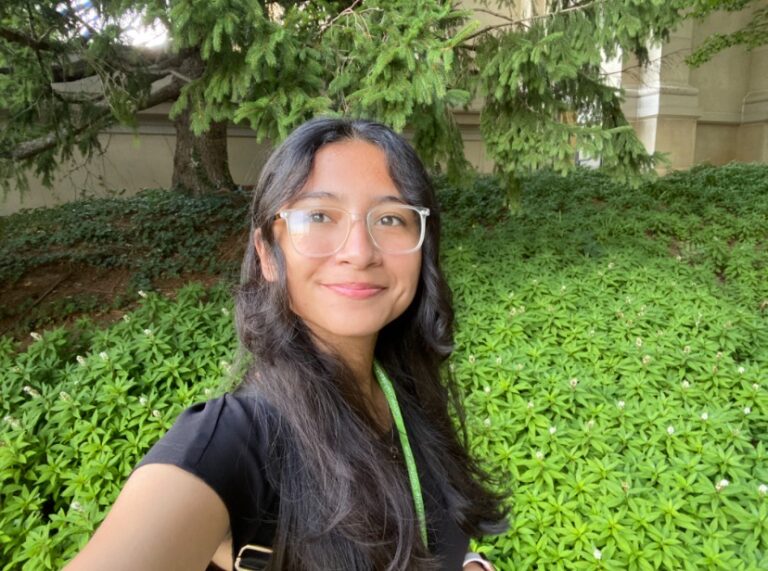 Melany Mendoza is a sophomore at Baldwin Senior High School and a General Intern for the promising TurnUp App, which is dedicated to youth involvement in activism. With great fascination in the areas of mathematics and medicine, she aspires to pursue a STEM-related career. She finds great interest in researching immigration reform, colorism, reproductive rights, and Latin American affairs.
This image is a work of the National Institutes of Health, part of the United States Department of Health and Human Services, taken or made as part of an employee's official duties. As a work of the U.S. federal government, the image is in the public domain.
Game-Changing Women: Helen Rodriguez Trias